Cute and Spooky Halloween Decoration Ideas to Try at Your Home
October 20, 2023
With a long weekend on the horizon, the Halloween excitement is building up in the Philippines. It's the perfect opportunity to infuse your home with the festive spirit of Halloween. Beyond the thrill of trick-or-treating and costume parties, adding Halloween decoration ideas to your living space can be an equally enjoyable endeavor.
One often overlooked aspect of Halloween decorating is the positive impact it can have on children. Decorating for Halloween provides an opportunity to familiarize children with the concept of fear in a safe and controlled environment. It allows them to explore their imaginations. Understand that fear can be fun and manageable. And ultimately, it promotes creativity and self-expression.
Whether you're planning a Halloween gathering or simply aiming to embrace the seasonal vibes, sprucing up your home is an excellent way to dive into the holiday spirit. In this blog, we'll delve into a world of charming yet spooky home décor ideas that are easily achievable. This allows you to convert your affordable house and lot for sale in San Jose Del Monte into a delightful Halloween wonderland.
Wicked Wreaths: Welcoming Entrances
Adorn your front door with a Halloween-themed wreath! You can make one yourself using artificial branches, spooky ornaments, and a bit of creativity. Add mini pumpkins, bats, spiders, or ghosts for that cute yet eerie vibe that will welcome trick-or-treaters to your home.
Pumpkin Parade: Jack-O'-Lantern Magic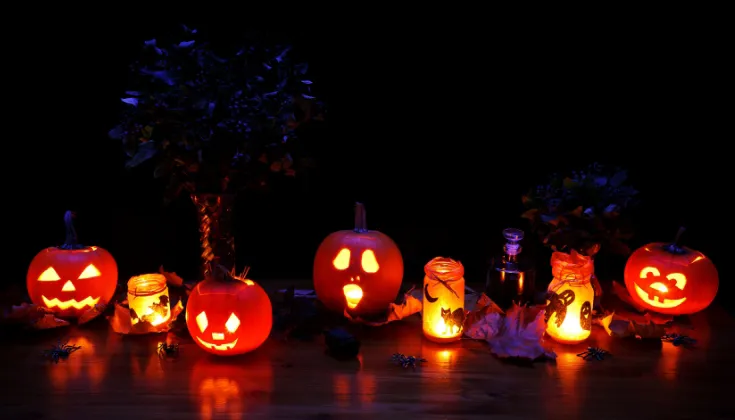 When it comes to Halloween décor, pumpkins reign supreme as the ultimate canvas for creativity. Traditionally, carving faces or eerie designs into pumpkins has been a classic choice. Bringing about that iconic glow with LED candles nestled inside. However, carving might not be everyone's cup of witches' brew. Fear not! The market offers a delightful array of affordable pumpkin toy baskets, sparing you from the intricate carving process. These charming pumpkin baskets can be decorated with LED lights. Or even used to hold a treasure trove of candy treats. If carving isn't your thing, a well-lit and candy-filled pumpkin basket can be just as magical.
Creepy Crawlers: Spider Webs Everywhere
When it comes to setting the stage for a spook-tacular Halloween, the art of weaving spider webs throughout your home is a time-honored tradition. These artificial, silken threads can transform your living spaces into eerie, abandoned haunted houses. Stretching synthetic cobwebs across your furniture, walls, and corners is a simple yet incredibly effective way to evoke that spine-tingling feeling. The addition of plastic spiders, strategically placed to appear as if they're lurking or crawling within the web, enhances the overall effect. As visitors enter your home, they'll be greeted by this macabre spectacle, setting the tone for a night of Halloween delights. The beauty of this decor lies in its affordability and versatility; it can be applied liberally or sparingly to create the desired level of spookiness.
Mystical Mirrors: Reflecting Haunted Whispers
Ah, the mystical allure of mirrors, those silent witnesses to our daily lives, reflecting our joys and fears. During Halloween, these everyday objects can be transformed into portals to another realm, where haunted whispers and mysterious shadows dance. Adorn your mirrors with removable Halloween-themed decals or drawings, shrouding them in an air of mystery. The clever placement of eerie silhouettes like ghosts or wicked witches can make it seem as though the spirits of the night are peering back through the glass, adding an extra layer of intrigue.
Freaky Fabrics and Drapes
Transform your home into a haunted haven with the magic of fabrics and drapes. Drape your furniture in eerie black or vibrant orange throws, setting a spine-chilling ambiance. These haunting hues can also extend to tablecloths, instantly giving your dining area a touch of Halloween charm. By playing with textures and patterns, you can evoke a mysterious and delightful atmosphere, adding a ghostly twist to your abode. Don't underestimate the power of fabric in turning your home into a ghoulishly inviting space.
Seasonal Scents: A Whiff of Halloween Magic
In the realm of home decor, ambiance is not solely defined by what we see—it's also about what we smell. To elevate your Halloween experience, consider adding seasonal scents to your decorating repertoire. One excellent way to achieve this is through the delightful aroma of scented candles.
Scented candles come in a variety of fragrances, and for Halloween, opting for scents that capture the essence of autumn is an excellent choice. Imagine the alluring aroma of pumpkin spice or the comforting waft of apple cider enveloping your home, creating a cozy and inviting atmosphere that perfectly complements your Halloween decor.
Wickedly Wonderful Table Settings
If you're planning a Halloween party or just want to enjoy a spooky dinner at home, Set the table in a way that's both delightful and eerie. Use black or dark-colored tablecloths as your base and add pops of orange, green, and purple with napkins, plates, and cups. Incorporate cute Halloween-themed plates and quirky serving dishes to complete the look. Don't forget to scatter some plastic spiders or bats for that extra spooky touch!
Charming Candy Stations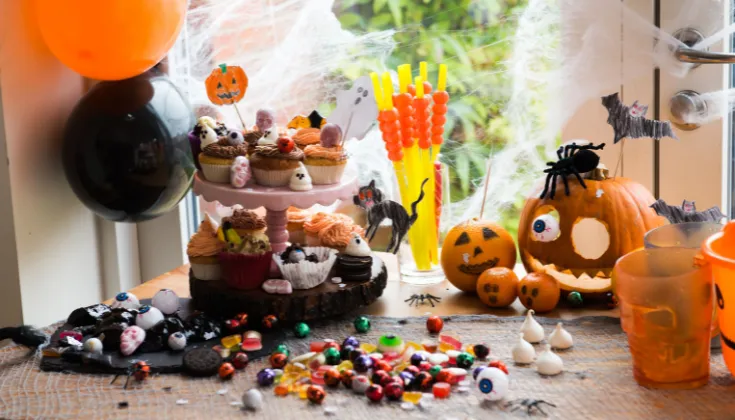 Halloween is synonymous with candy and treats. And what better way to celebrate this sweet tradition than by creating delightful candy stations in your own home? Elevate your candy game this spooky season by setting up charming candy stations at strategic spots around your abode. Picture this: small tables or designated corners adorned with festive decorations, decorative bowls or containers brimming with an array of candies, and an atmosphere of pure Halloween joy. This not only makes for a great décor element but also ensures that trick-or-treaters have a memorable candy-hunting experience.
Wrapping Up
Halloween is all about letting your creativity run wild and embracing the spookiness with open arms. You don't need a hefty budget to bring the Halloween spirit into your home. With a little imagination and some DIY magic, you can create a bewitching atmosphere that will leave both kids and adults spellbound.
Here at Pinnacle Homes, we believe in the power of affordable and imaginative home decoration. As you embark on your Halloween decor journey, remember that it's not about how much you spend, but the joy and magic you create. So, gear up, dear friends! Get your pumpkins ready, unleash the spiders, and let the ghosts roam freely. May your Halloween be filled with spooky delights and a whole lot of fun. Happy decorating and have a boo-tiful Halloween!
Check-out our House and Lot for Sale in San Jose Del Monte Bulacan
Discover our house and lot for sale in San Jose Del Monte Bulacan — Regent Heights by Pinnacle Homes.
Explore Property

Join our Mailing List
Sign-up and be the first to know about the latest projects, upcoming events, special promos and offers of Pinnacle Homes!