Best Subdivision Amenities that Residents Really Need
May 10, 2023
When searching for a new home, it's crucial to prioritize the type of community that aligns with your preferences and requirements. Beyond merely providing shelter, it's essential to consider various factors when selecting a property, such as a house and lot for sale in Cavite, especially if you aim to ensure the well-being of your family. Evaluating the best subdivision amenities becomes paramount in this decision-making process, as they play a significant role in enhancing the overall living experience for your loved ones.
In this blog post, we will discuss some of amenities that residents really need, including parks and playgrounds, multi-purpose hall, walking trail, basketball court, a terminal hub, and convenience shops.
Gated Community and 24/7 Security
When it comes to selecting a family-friendly community, ensuring the safety and security of your loved ones is of paramount importance. For parents, a gated community with round-the-clock security measures can provide a great deal of comfort and ease, even if your child is playing outdoors. These communities offer a wide array of benefits to families, including a sense of exclusivity and privacy that can be particularly attractive to those who value a peaceful and secure living environment.
As you consider different communities, it is crucial to assess the quality of the security measures that are in place. Opt for gated communities that have 24/7 security personnel who are not only well-trained but also equipped to handle emergency situations with ease. Additionally, take into account the accessibility of the community, including the number and location of access points, as well as the overall level of commitment to safety and security. Look for communities that foster a strong sense of community spirit and prioritize the well-being of their residents.
Parks and Playgrounds
Parks and playgrounds are important amenities that can greatly enhance the quality of life. They provide safe and welcoming outdoor spaces where children can play, explore, and engage in physical activity, while also providing opportunities for families to gather, relax, and enjoy nature. Parks promote physical activity and exercise, but they also offer many mental and emotional benefits. They provide a natural and peaceful environment where families can relax, recharge, and connect with nature. They also offer opportunities for socialization and community building as families gather for events and activities in the park.
Playgrounds are a specific type of park that is designed for children to play and engage in physical activity. Playgrounds typically feature a variety of age-appropriate equipment, such as swings, slides, and climbing structures. They offer a fun and safe space for children to play, explore, and develop important physical and social skills.
Playgrounds are also important for children's cognitive and emotional development. They provide a stimulating and creative environment where children can use their imagination and problem-solving skills. They also offer opportunities for socialization and interaction with other children, which can improve communication, empathy, and teamwork.
Sports and Fitness Amenities
In addition to parks and playgrounds, amenities that promote fitness are also vital. They offer opportunities for physical activity, socializing, and competition.
Walking trails offer a safe and scenic route for families to take walks or jogs. They provide an easy way for residents to stay active and get some fresh air, while also enjoying the natural beauty of the surrounding environment. Walking can be a low-stress activity that allows for conversation and bonding, making it an ideal activity for families with children of all ages. Walking trails can be an essential component of a healthy lifestyle and can contribute to overall physical and mental well-being.
Basketball courts provide a fun and competitive way for families to get exercise. Basketball is a sport that can be enjoyed by people of all ages and skill levels, making it an excellent activity for families to engage in together. Playing basketball can improve physical fitness, coordination, and teamwork skills, while also providing an outlet for friendly competition.
In addition to their physical benefits, walking trails and basketball courts can also have a positive impact on the community as a whole. They can serve as gathering places for residents, encouraging social interaction and community engagement.
Multi-Purpose Hall
A multi-purpose hall is an essential amenity for a because it serves as a central location for a wide range of events and activities. From community events and meetings to parties and celebrations, this versatile facility offers endless possibilities for residents to come together and mark life's milestones.
Whether it's a graduation ceremony, a milestone birthday, or a wedding reception, a multi-purpose hall provides the perfect space for residents to gather and celebrate. It serves as a hub for community engagement, fostering connections and relationships among neighbors.
With its flexible layout and ample space, a multi-purpose hall is a valuable asset for any family-friendly community, helping to create a sense of belonging and togetherness among residents. Whether you're looking to organize a community event or simply want to connect with your neighbors, this facility provides the ideal setting to celebrate life's milestones and make lasting memories with your family and friends.
Transport Terminal and Convenience Shops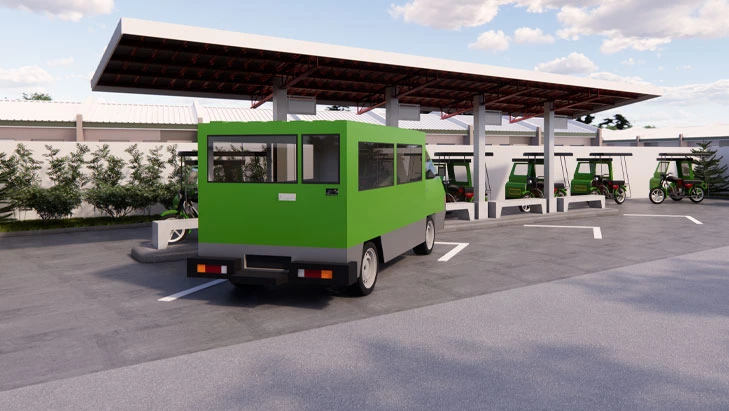 Lastly, easy access to essential needs is a big plus in a community. Subdivisions that include facilities like a transport terminal and convenience shops make life easier for its residents.
A terminal hub is a transportation hub that connects residents to other parts of the city or town. A well-designed terminal hub can make it easy and convenient for families to get around without having to rely on a car.
Convenience shops, such as a grocery store, pharmacy, or bills payment center, are also important amenities for families. These shops provide easy access to essential items without the hassle of commuting. It's more practical to look for a subdivision that has a variety of convenience shops within walking distance, or at least a short drive away.
In conclusion, choosing the right subdivision for your family requires a thorough evaluation of the amenities and features that are important to you. Whether it's outdoor spaces like parks and playgrounds, community facilities like multi-purpose halls and sports courts, or security measures like gated communities and 24/7 security, each amenity can contribute to a safe, comfortable, and enjoyable environment for families. By taking the time to consider the needs and preferences of your family, you can make an informed decision and choose a subdivision that offers the amenities and lifestyle that best fit your family's needs. Ultimately, a well-chosen subdivision can offer a sense of community, security, and enjoyment that can greatly enhance your family's quality of life.
Check-out our House and Lot for Sale in Cavite
Discover our house and lot for sale in Trece Martires Cavite — Hiraya Homes by Pinnacle Homes.
Explore Property

Join our Mailing List
Sign-up and be the first to know about the latest projects, upcoming events, special promos and offers of Pinnacle Homes!