Things to Consider When Buying a House (A Couple's Guide)
June 5, 2023
Congratulations on your decision to take the next step in your relationship and embark on the exciting journey of homeownership! As you plan for your future together, there are important things to consider when buying a house. It's essential to go through the process of budgeting for your first home with careful consideration, ensuring that you make informed decisions about this significant investment.
In this guide, we'll walk you through the essential steps to help you create a budget and make informed decisions as a couple planning to settle down. Let's explore how you can achieve your dream of owning a house and lot for sale in San Jose Del Monte Bulacan while staying within your financial means.
Determine Your Financial Capacity
To start your homebuying journey, it's important to evaluate your financial capacity as a couple. This involves discussing how much money you can realistically shell out and how you will allocate and share expenses as a couple. By engaging in open and honest communication, you can create a budget that aligns with your financial goals and aspirations.
To determine your financial capacity, start by taking a comprehensive look at your combined income, savings, and existing debts. Assess your combined income as a couple, considering all sources such as salaries, bonuses, freelance work, or any other earnings. By understanding the total income available, you can gauge the amount you can comfortably allocate towards housing expenses. Also, it is crucial to discuss and decide how you will share expenses as a couple. This conversation involves considering each partner's financial obligations, goals, and capabilities. Some couples choose to contribute an equal percentage of their income towards shared expenses, while others opt for a more proportional approach based on income disparities. The key is to find a method that works best for both of you and promotes financial harmony in your relationship.
Assess your Savings
When budgeting for your first home, it's essential to assess your savings and understand the importance of maintaining a financial buffer. Building and maintaining a sufficient savings cushion is crucial for maintaining your current lifestyle and providing stability during the transition to homeownership.
Having a robust savings account offers several benefits. Firstly, it provides you with a safety net in case of unexpected expenses or emergencies. Additionally, a savings buffer can help you maintain your lifestyle during the transition period. Moving into a new home often involves additional expenses such as furnishing, decorating, and setting up utilities. With a well-funded savings account, you can comfortably cover these costs without sacrificing your lifestyle or going into debt.
Consider the Location
When it comes to investing in your first home, it's crucial to consider the location and explore the advantages it can offer, particularly in terms of price. The choice of location can significantly impact the affordability of a house and lot for sale, allowing you to find better value for your investment. Knowing that Metro Manila offers higher property value, you can consider neighboring cities or nearby provinces. Especially those that will benefit infrastructure developments that improve its accessibility. Properties in San Jose Del Monte city, for example, have become an attractive option with the upcoming completion of the MRT-7 Station.
Take the time to research different locations and consider factors practicality and convenience. Look for areas that have easy access to your workplaces, schools, transportation options, and essential amenities like supermarkets, healthcare facilities, and recreational areas.
Explore Affordable Housing Options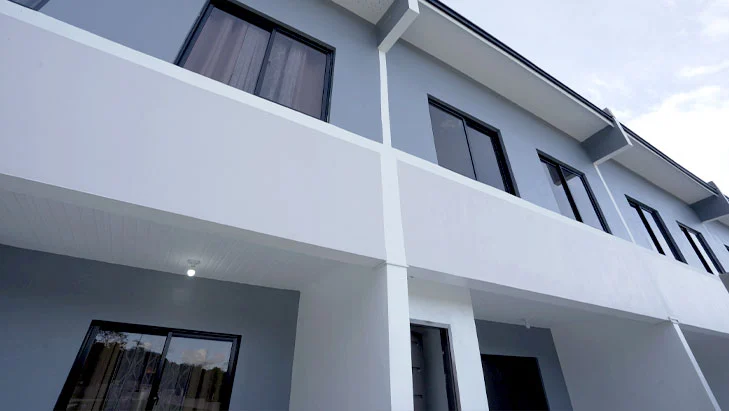 It is important to explore affordable housing options that align with your financial goals. By considering different types of properties and exploring alternative housing solutions, you can find the perfect match that fits your budget and lifestyle.
One affordable housing option that offers several benefits for young couples is a townhouse. Townhouses often provide a perfect balance of affordability, space, and convenience. They are typically priced more competitively compared to single-family homes, making them an attractive choice for those seeking an affordable yet comfortable living arrangement. Townhouses are often part of gated communities or subdivisions, which can provide a sense of security and community. These communities may offer shared amenities like parks, playgrounds, and clubhouses, giving you access to recreational facilities without having to leave your neighborhood.
Stick to Your Budget
While searching for your dream home, it's important to stick to your budget to avoid financial strain. Set a realistic budget that considers not just the purchase price but also the ongoing costs of homeownership, such as property taxes, insurance, and maintenance expenses. Remember to be disciplined and avoid the temptation to overspend. By staying within your budget, you'll ensure a more stable and comfortable homeownership experience.
Budgeting for your first home as a couple planning to get married is an exciting and rewarding process. By determining your financial capacity, setting clear goals, saving for a down payment, exploring affordable housing options, and sticking to your budget, you can make informed decisions and achieve your dream of owning a house and lot for sale in San Jose Del Monte Bulacan. As you embark on this journey, remember that open communication, shared financial responsibility, and realistic expectations are key to a successful homebuying experience. May your first home be a place where your love and dreams thrive!
Check-out our House and Lot in San Jose Del Monte Bulacan
Discover our house and lot in San Jose Del Monte Bulacan — Regent Heights by Pinnacle Homes.
Explore Property

Join our Mailing List
Sign-up and be the first to know about the latest projects, upcoming events, special promos and offers of Pinnacle Homes!